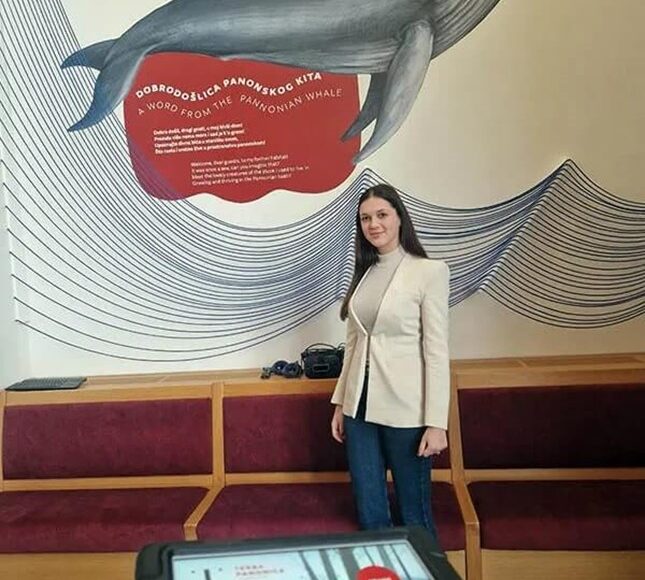 A hedonistic adventure in Golden Slavonia
Psunj, Papuk, Krndija, Dilj gora and Požeška gora surround the Požeška basin. With its ridges and peaks that stretch from the east (713 m) above Kutjevo, over the main peak of Papuk (953 m), all the way to the western Petrovo vrh (615 m) near Daruvar, the northern mountain massif of Papuk is particularly interesting. The massif protects the basin from northern winds, and the southern slopes have a milder climate than in the basin itself.
It is an amazing area with ideal conditions for the development of tourism, which every year attracts an increasing number of tourists from Croatia, other European countries, and the world.
What was the way of life in Požega and Zlatna dolina in the past? Who made Baron Trenko famous with his successes? How did Fr. Luka Ibrišimović get the nickname Sokol? Find the answers to these questions, as well as many other fascinating historical details, in the Požeška House visitor center, located in the heart of the city of Požega.
To activate the multimedia content, you need a ticket that will take you on an interesting historical journey.
You can test your skills in a direct fight with the enigmatic baron Trenk, listen to the story of Fr. Luka Ibrišimović and Grgurevo, which the people of Požega celebrate as city day, and enjoy the natural beauty of the Požega region on a "drunken bicycle". An original approach to the museum exhibit, for which you need a ticket of an unusual shape.
The house in Požega is also interesting because it will take you to the gastronomic past, because in the mysterious cellar you can find recipes for beautiful dishes that were once served on Slavonian tables, as well as two of the biggest local brands – wine and chocolate. I suggest that you accept the challenge of putting together your own dessert and take part in the quiz about the tempting chocolate, which, along with the cap, is the original ticket to Požeška House, and download the historical recipes from the Museum in a pot. A very informative center to visit and learn more about this city.
Not far from the old town center of Požega, in the tranquility of the magnificent slopes of Požega Gora, there is Grgin dol, a cult Požega restaurant and hotel, also known as Grginjak. The restaurant has a continuous history of more than 70 years and is a popular gathering place for locals and visitors to Požega. We ate delicious and light fried pancakes with cheese and perch fillet.
Not far from Požega is Pleternica. Only in Pleternica can you swim with whales and sharks in the deep blue of the former Pannonian Sea. And it's a nice feeling, especially if you dive with a friend and share this unforgettable experience with them, everything is possible at the Terra Panonica Interpretation Center. Thanks to virtual reality and VR glasses, the lines that separate reality from fantasy blur, time takes on a completely new dimension, and you can go back in time to the time when the islands of Psunj, Papuk and Krndija were above it. Children will especially like modern technology and fun and informative content.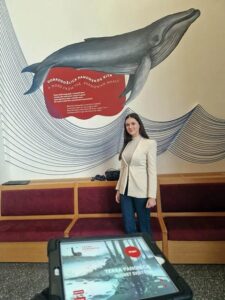 Numerous fossils of once living organisms, primarily marine animals, testify to the long history of the "Slavic Archipelago". These fossils are located in Velika at the entrance to the Papuk Nature Park and have a striking display in the House of the Pannonian Sea. Younger children will also enjoy playing with sea sand on the interactive floor in this charming visitor-educational center, while older children can navigate the maze of quizzes and statues of prehistoric Slavonians, including sharks and rhinoceroses. Truly exciting for the whole family.
On its edges are the ruins of magnificent medieval cities, on the hillsides are picturesque places where life flourishes, and in deep and diverse forests hide rich flora and fauna. It was declared a nature park in 1999 and a global geopark in 2007, after which it became the first UNESCO world geopark in Croatia. It is an ideal place for relaxation, inspiration, meditation and entertainment away from the pavement. The first Duboka eco-camp in continental Croatia is a great option if you are looking for anti-stress therapy, complete silence and real life in harmony with nature. It is located in Velika, in a beautiful mountain valley by the Dubočanka stream, at the very entrance to the Nature Park.
The Shhhuma restaurant operates as a first-class a-la-carte facility with a luxuriously furnished contemporary atmosphere and seating capacity. Chef Branko Ognjenović has created a new à la carte menu for you! Enjoy classic cuisine prepared in a slightly more modern way.
The Jesuits built an impressive baroque fortress on the ruins of the Cistercian abbey Vallis Honesta de Gotho in the 18th century, and the Turković family owned the site during its heyday. Below it is the oldest wine cellar from 1232. A huge wine library, almost 800 years of uninterrupted wine heritage, where the modern Kutjevo winery is today.
A real discovery is the wine of the winemaker Davor Romić's family. This modest winemaker presented himself with various wines, most of which received high marks from the Institute of Winery in the City of Zagreb. The abundance of taste and quality is thus another proof that the vineyards of Požeška Gora are capable of producing the best of wine. Almost five hectares of vineyards are cultivated by Davor, his wife and four children. They have good results. They will soon become a significant player in the field, in my opinion.
Not many sparkling wines are produced in this part of Croatia yet, so we visited the Josipović family. Their Jazz sparkling wine is made on the basis of Graševina and Rhine Riesling and is not a replica of any special sparkling wine. It is made using the traditional technique of second fermentation in the bottle, after which it matures for approximately 1.5 years on yeasts. Tango was the second sparkling wine they put on the market. Its berries are pink because it comes from Pinot Gris, a natural clone of Pinot Noir that has aged and lost its color. The color is easily transferred to a wine reminiscent of rosé if they are macerated. To me, Josipović sparkling wines are one of the best in Croatia.
Villas Montis are located in the village of Novo Zvečevo at an altitude of 447 meters above sea level on the Papuk mountain. Villas Tena, Maja, Sara and Rebecca are very comfortable with swimming pools and all the benefits of luxury accommodation. The owners are known for their hospitality and friendly attitude towards their guests, and as they say, they can organize everything needed for an unforgettable vacation. The villa complex is less than 60 kilometers from six Slavonic towns: Požega, Virovitica, Daruvar, Lipik, Orahovica and Kutjevo. Nearby is the well-known Jankovac excursion site, which fascinates with its natural beauty, Rupnica – a unique geological monument, and the Lisičine Arboretum, which has over 500 different families of woody plants.
Restaurant Zlatni Lug, located in the picturesque Slavonian plain not far from Požega, exudes tradition and is an ideal place to relax and enjoy a good drink and delicious food.
The rich offer of autochthonous dishes and domestic products will take you on a real gastronomic excursion. The atmosphere of the restaurant will give you a true experience of Slavonia and its centuries-old history. The highlight of my two-day stay in Požega-Slavonia County was dinner at Zlatni lug. My experience has led me to unreservedly recommend this restaurant to anyone looking for a hedonistic adventure.
Golden Slavonia for golden experiences
Travelers who return to their homes after their stay in Golden Slavonia cannot stop talking with enthusiasm about everything they experienced, saw, learned and tasted in this part of Slavonia. It is a truly special experience to spend a few days or an entire vacation in this area. Friendly and hardworking hosts will do everything to make your stay in Zlatna Slavonia memorable.
Source: Travel Advisor